Mr President, you can actually neuter your detractors if you want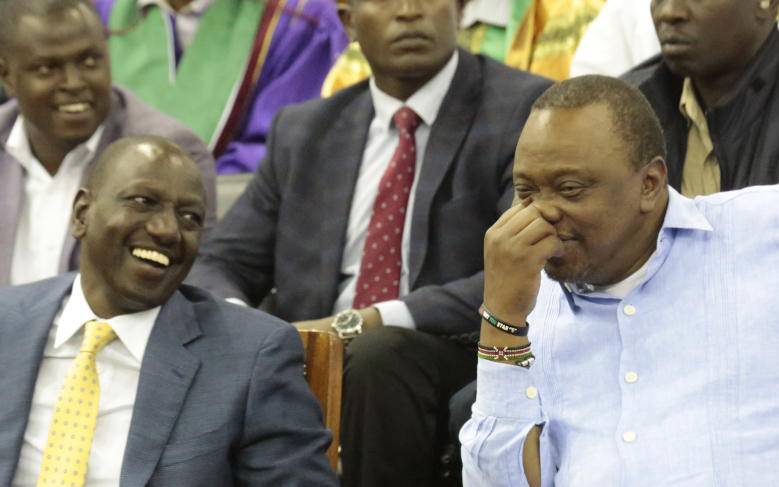 At no other time has anyone succeeded in polarising this country more than Deputy President William Ruto. He has divided a hitherto united Central Kenya and not only pitted Jubilee MPs against each other; a section of the electorate now openly boos its leaders. He has succeeded in creating camps among Kalenjin MPs, added to which he has also driven a wedge between women leaders currently operating under the banners of Embrace Women Initiative and the Tangatanga Women League.
Give it to industrious Ruto that Jubilee MPs; those opposing and pushing his consuming desire to become president in 2022 are at each other's throats. He stereotyped a certain community as stone throwers, effectively alienating it. He has thrown the spanner in the works of perfunctory Luhyas unity calls by turning the veritable bull fighter and a handful of lackluster MPs into lackeys who now promise to deliver the Luhyas, all nicely trussed up, to Ruto in 2022. It beggars belief that someone who could not convince a handful of voters in his locality to vote for him now has the ability to deliver the Luhya vote to Ruto as a block.
Not even the church has been spared, because today, there are serious divisions fomented by Ruto's largesse in giving church donations that have drawn praise and condemnation in equal measure. There are church leaders who would gladly take Ruto's largesse, and there are those who will hesitate. Above all, Ruto's overt opposition to the handshake has so rattled his boss; he flew off the handle and launched into a vernacular tirade that must have instilled the fear of the lord in the heavenly investors' excitable acolytes last week. And this is the man who wants to become president of Kenya in 2022. Creepy, if you ask me.
The handle
Worryingly, delusions of grandeur seem to have gotten the better of Ruto. For the discerning, that is a danger sign, especially when military/police-like uniforms fascinate him to no end. He may not even realise the import himself, but it is there nonetheless. A Ruto ally recently had a portrait of him in full combat gear on a matatu. That charcoal grey uniform that Ruto wore conjures up images of the late Uganda dictator Idi Amin and Bedel Bokasa of Central African Republic (CAR) who had a thing for military uniforms in grey colour. The damage Amin wreaked on Uganda and Bokasa on CAR remain palpable four decades later.
What then are the attributes of a good leader? One would say composed, candid, measured, slow to anger, adaptable and conciliatory. I doubt any of these attributes fit Ruto. He comes across as intense and unforgiving. His caustic references to Raila Odinga whenever the opportunity presents itself are legendary and say more about the man's character than anything else. He has made it his business to portray Raila as a bogeyman. Questions linger on what drives this obsession that is carefully couched in the "waganga", "wachawi" and "prince of poverty narratives". By itself, such a position is polarising.
The deportment
Luckily, many Kenyans know where the poverty lies. Fiduciary abundance bar emotional, intellectual and ideological richness is a waste. The deportment of Ruto's confidantes only compounds matters. If ever there was a feckless assemblage of individuals who fancy themselves as national leaders, this is it. Never once have I tuned in to an intelligent, issue based discourse by these colorful individuals. Instead, they ooze venom every time their mouths fly open; basically to utter ethnic drivel.
Such is the drivel that got under Uhuru's skin and launched him into a tirade recently. But while the Tangatanga ideologues dig trenches to frustrate Uhuru's development efforts, we should blame the president for having given the renegades room to operate and entertain the thought that because they were elected by the people, they could ridicule him without fear of consequences. It seems Uhuru, the president and symbol of national unity, lacks that decisiveness and punch to make his Jubilee MPs toe the line. Since the "munataka nifanye nini jameni" gaffe during a past State House function, his detractors got emboldened and have been chipping away at him. Not even Ruto, the man who rode to fame on the wave of Uhuru's crest, charisma and personality has the modesty to respect Uhuru's repeated call to a cessation of early campaigns. He has consistently defied the president and demeaned him in the eyes of the public and our international friends.
How one so disrespectful hopes to be respected defies logic. Mr President, stop being bashful and extend those claws. You must find a way to neuter your fatalistic detractors. If you look around you carefully, you will find there are so many ways of effectively dealing with these guys, it will surprise you.
Mr Chagema is a correspondent at The [email protected]