Sometimes words mean the opposite of what we imagine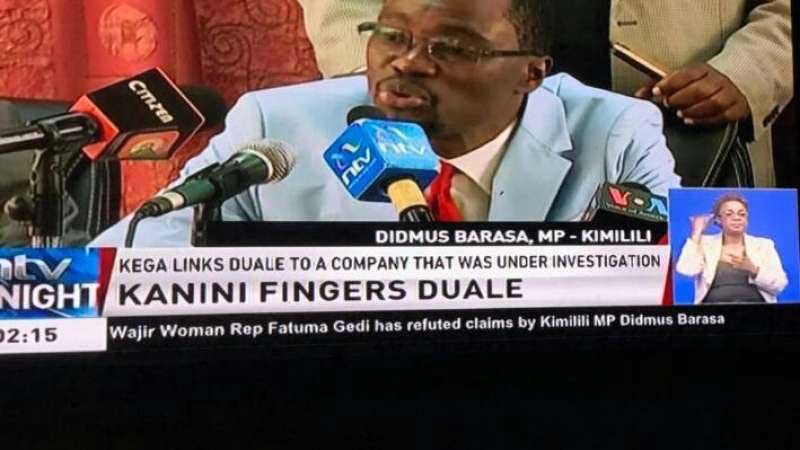 The words "Kanini fingers Duale" popped up, and for quite some time, remained prominently displayed on the bottom of the television screen as I watched news on a local television channel recently. It was much later, as I went through social media, particularly Facebook, that I noticed the discourse those three words had generated. Quite a number of social media users had picked the sentence referenced above and, each to his or her taste, had volunteered their own understanding of it.
To a greater extent, the comments were insulting, lewd and tended to correct what was considered to be a monumental blunder. The general perception was that the words had been used out of context and ended up conveying an obscene meaning. As usual, the insults flowed unrestrained. Of late, when it comes to bashing mainstream media, social media effortlessly takes the trophy. Most of the bashing, however, is totally undeserved.
Many of those offering their caustic opinions ignored the context in which the words were used. To allow the benefit of doubt and to cross check whatever one doubts are hallmarks of a good learner. Most of us get it wrong for failing to do so. Misrepresentation of facts is dishonest.
Explicitly offensive
I hazard a guess that the opinions of those offended by the wording were informed by obsession with the slang version. But even then, it would have been explicitly offensive if it had been written as; "Kanini gives Duale the finger" or "Kanini shows Duale the middle finger". However, let us also acknowledge that of the many meanings attached to 'finger' (transitive verb), is 'to fondle' (to stroke erotically).
In the same transitive verb form, to 'finger' means to 'touch or feel with the fingers'. It also means to 'point out' or 'to accuse' someone of an offence. Something that extends from the larger body, say, land, is called a finger; finger of land. In catering, we speak of 'chicken fingers', 'fish fingers'. For those who love their booze, it is possible to have only 'two or three fingers' of whisky and call it a day. Ideally, a doctor would 'finger' a swelling on a patient's body while trying to determine its nature. In relation to the parliamentary report after probe on contraband sugar that was summarily rejected by parliament, it would be perfectly alright to say: "Two Cabinet secretaries were fingered as suspects in the illegal importation of sugar into Kenya". That should not raise hackles.
In regard to the ongoing demolition of buildings illegally erected on riparian land, to say: "The Government is yet to finger the officers who approved the construction of the buildings earmarked for demolition" is structurally and grammatically correct. The word 'finger' features prominently in a number of idiomatic expressions, each with its own meaning.
Noticeable changes
Some of these include 'Have a finger in the pie"(Meddlesome involvement), 'itchy fingers'( eagerness), 'three finger salute'( To salute), 'burn ones fingers', 'cross one's fingers'( hope for something), 'finger someone as someone'( Identify someone), 'five finger discount'( Shoplifting), 'get fingers burned'(suffer an unpleasant consequence), 'lay a finger on somebody' (touch lightly).
The point is that certain words and expressions change meaning depending on the context in which they are used. To latch onto a particular one and apply it uniformly across the board is to be unfair. Thus, when someone writes: "The governor of Kiambu has failed to pick up the mood of the nation", he or she is expressing a totally different thing from one who writes: "The governor of Kiambu has failed to pick up on the mood of the nation". To 'pick up' simply means to lift from the ground or floor. To 'pick up on' (idiom) means to take note of, or to learn about something.
Regarding idiomatic expressions, most of us either choose to attach the wrong meanings or inadvertently alter the order of the wordings to suit our needs. Idiomatic expressions have largely remained unchanged over the years despite noticeable changes in the English language. Over time, the English language has assimilated a number of borrowed words.
Locally, for instance, the combination of English and Swahili words to form 'Sheng' has had its effect on the way youth speak English in some places. But since our education system has not embraced the use of 'Sheng' in teaching, sticking to the formal version of the English language is the right thing to do.
Mr Chagema is a correspondent at The [email protected]