Museveni hits at the West as he's sworn in for sixth term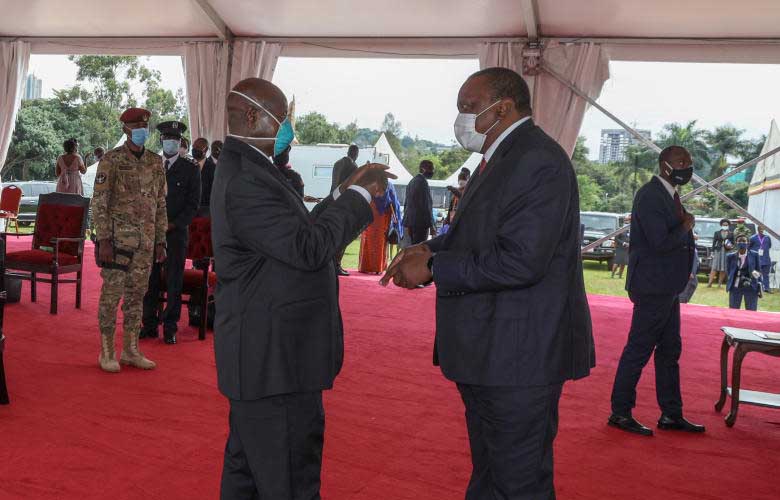 Uganda President Yoweri Museveni was yesterday sworn in for the sixth term, extending his four-decade reign.
Eleven heads of State and other dignitaries attended the ceremony at Kololo stadium in Kampala.
Conspicuously missing was Rwanda's President Paul Kagame. President Uhuru Kenyatta and Somalia's Mohamed Farmaajo came face to face amid a diplomatic row between the two nations.
Museveni was sworn in amid claims of human right abuses. His administration has been accused of muzzling the opposition by arresting his competitors.
His government has faced criticism, particularly from the West, for allegedly stifling democracy, but yesterday, he had no kind words for them.
"It is therefore quite comic and laughable to hear of some actors in the world giving us lectures about democracy. You give me a lecture about democracy… where are your credentials?" he charged.
He made the remarks while enumerating the steps his government had taken to enhance gender parity. "We designed this system, not from air-conditioned rooms, but from the jungles of our country where we lived with the people," he said.
He thanked Kenya and other neighbouring countries, for importing agricultural produce.
Other presidents at the event were Samia Suluhu (Tanzania), Salva Kiir (South Sudan), Sahle-Work Zewde (Ethiopia), and Evariste Ndayishimiye (Burundi). Others were Felix Tshisekedi (DRC), Emerson Mnangagwa (Zimbabwe), Hage Geingob (Namibia), Nana Akufo-Addo (Ghana) and Alpha Conde (Guinea). [Brian Otieno]