Cleric Lazarus Chakwera sworn in as new Malawi President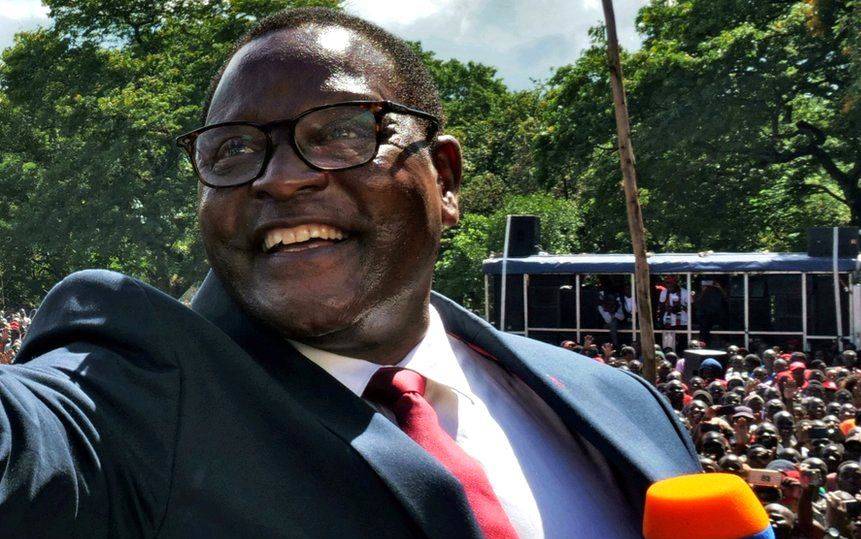 Dr Lazarus Chakwera (pictured above) was on Sunday morning sworn in as president of Malawi after winning an election rerun.
Dr Chakwera trounced incumbent Prof Peter Mutharika after garnering 58.57% of the vote in an election which was held on Tuesday. Malawi's electoral commission announced the results on Saturday.
He and his running mate Saulos Chilima took the oath of office in front of cheering crowds at Bingu International Convention Centre in the capital, Lilongwe.
"I, Dr Lazarus McCarthy Chakwera, do solemnly swear that I will well and truly perform, the functions of the high office of President, of the Republic of Malawi, and that I will preserve and defend the constitution, and that I will do right to all manner of the people, according to law, without fear or favour, affection or ill will, so help me God'' he said in English.
There was a slight glitch, that VP Saulos Chilima had to take the of office for a second time because they forgot to swear him on the bible. Chilima is the first Malawian Vice President to serve for two consecutive terms using different parties.
Embattled Chief Justice Andrew Nyirenda while administering the oath to Saulos Chilima noted that it was fun but once bitten twice shy.
In his acceptance speech, Dr Chakwera noted that it is an honour that has reignited the dream of a better Malawi.
''The time is up for us to stop dreaming. With your help, we will restore your faith by being a government that stands for the need of Malawians,'' newly sworn-in President said amid cheers.
"I pledge to run Malawi as that is the path to 'Tsogolo labwino' meaning better future," he further noted.
He has promised the people of Malawi that the new administration will strive to give equal opportunities for everyone.
Prof Arthur Peter Mutharika did not attend the swearing-in ceremony.
Speaking ahead of Saturday's results, the outgoing president Mutharika said that he found the election "unacceptable", but had "sincere hope that they should take the country forward instead of backwards."
Only a few African leaders attended the ceremony. They include former Malawi President Joyce Banda, former Zambian Vice President Nevers Mumba and former Malawi Congress Party Leader John Tembo.
Kenya's Raila Odinga has sent his congratulatory message to the new President on his impressive victory.
''The election in Malawi is a symbol of hope for those who support democracy in Africa and around the world,'' Raila posted on his twitter handle.
The election has brought the opposition Malawi Congress party back to the grip of power after 26 years in the cold.
The ruling party, DPP, says the presidential election was rigged and that it was the worst in the history of Malawi.
Dr Lazarus Chakwera becomes Malawi's sixth President having defeated his challenger, Peter Mutharika, in the June 23 polls 58 to 40 per cent, according to official results.
The new President, 65, has spent his years mostly performing the ministry of preaching as a pastor.
The change of guard signals a transition following February event in which Malawi's constitutional court annulled Mr Mutharika's victory in the May 2019 election, citing poll irregularity.
Malawi's landmark ruling on the presidential election seemed to have been inspired by Kenya's Presidential Election which was annulled by the Supreme Court in 2017 over irregularity.
But contrary to Malawi's scenario, in which the contestant went and won a rerun of the poll; in Kenya, President Uhuru Kenyatta's challenger, Raila Odinga opted out of rerun citing inadequate preparation by the electoral body.
Mr Chakwera, a Pentecostal preacher and former theology lecturer, will now be tasked with a quest to heal the divisions in Malawi and spearhead economic growth after long term political turmoil.
Additional reporting by Japheth Ogila