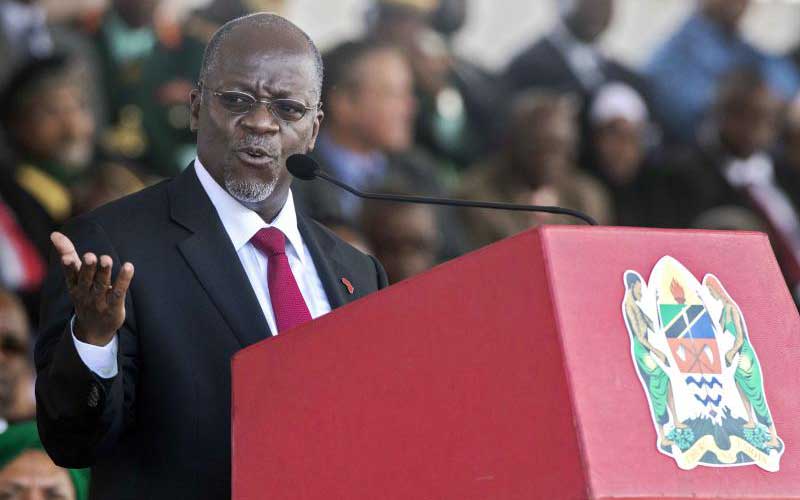 Tanzanian President John Magufuli (pictured) has fired the country's deputy health minister Dr Faustine Ndugulile and appointed Dr Godwin Mollel to the position.
Ndugulile's surprise sacking was announced yesterday in a communiqué from the State House Director of Communication Gerson Msigwa amidst growing international criticism of Tanzania's handling of the coronavirus pandemic.
The statement said 40-year-old Mollel, the Member of Parliament for Siha, assumed office on May 16.
No reason was given for the sacking of Ndugulile, 51, who has served in the position for three years.
Ndugulile, a microbiologist by training, said he accepted the president's decision with "great humility" and thanked him for the opportunity to serve in his administration.
"The success of the health industry is enormous," he posted on Twitter, wishing his successor all the best in his new role.
Nimepokea uamuzi wa Mhe Rais kwa unyenyekevu mkubwa. Ninamshukuru sana JPM kwa kunipa fursa ya kuhudumu katika Serikali yake. Nawashukuru sana @umwalimu na watendaji wote kwa ushirikiano walionipatia.
Mafanikio ya sekta ni makubwa sana. Namtakia kila la kheri NW ajaye Dkt Mollel. — Faustine Ndugulile (@DocFaustine) May 17, 2020
Tanzania is becoming accustomed to such reorganisations at the critical ministry even as President Magufuli seeks to regain control of the fight against the virus.
A fortnight ago, Magufuli transferred the Health Permanent Secretary Zainab Chaula to the Communications ministry barely one year after she moved her from the Local Government ministry where she was a deputy permanent secretary.
Prof Mabula Mchembe was appointed the new health PS while Prof Abel Makubi took reigns as the new chief medical officer from Mohamed Bakari who was retired.
On May 4, Magufuli suspended the Director of the National Health Laboratory and the head of quality control after he dismissed imported coronavirus testing kits as faulty.
Dr Nyambura Moremi and Jacob Lusekelo were directed to immediately step aside pending further investigations after samples taken from a goat and pawpaw allegedly tested positive for the coronavirus.
Tanzania has drawn criticism of its handling of the virus outbreak. Critics have accused the Dodoma administration of secrecy after freezing release of data on new cases since April 29.
The US embassy in Tanzania on May 13 warned that there was a risk of exponential growth of Covid-19 cases in the country and that hospitals in its capital were overwhelmed.
"The risk of contracting Covid-19 in Dar es Salaam is extremely high. Despite limited official reports, all evidence points to exponential growth of the epidemic in Dar and other locations in Tanzania," the embassy said as it issued a Global Level 4 Health Advisory.
Read the full Text at https://t.co/ltRqmBRspn. U.S. Citizens Travelers in Tanzania: Please enroll in the Smart Traveler Enrollment Program at https://t.co/tvsMAq8c4s to receive alerts and ensure you can be located in an emergency. pic.twitter.com/pOBH2kMj3b — US Embassy Tanzania (@usembassytz) May 13, 2020
Kenya on May 16 closed her border with Tanzania to contain the spillover of Covid-19 cases from her neighbour.
President Uhuru Kenyatta banned movement of persons, or passenger ferrying vehicles in and out of Kenya from Tanzania with exception of cargo ferrying trucks.
Truck drivers will be tested and issued with a Covid-19 free certificate before they gain entry into Kenya.
As per the last known tally, Tanzania had 509 Covid-19 cases with 183 recoveries and 21 deaths.