Tough times for Tanzania's dissenting voices in 2020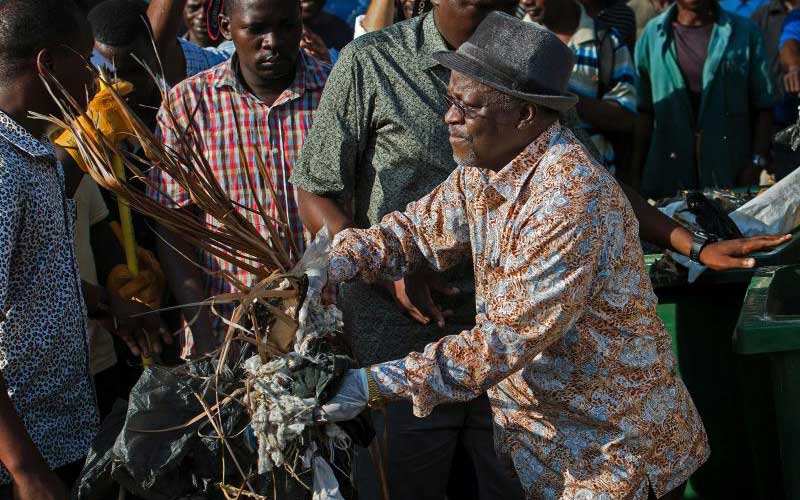 Human rights defenders and opposition politicians in one of the continent's rising economies will be a worried lot as 2020 approaches.
Emerging from what has been one of the most suffocating years for dissenting views in Tanzania, voices critical to the regime of current President John Magufuli will most likely have a more difficult year.
This comes against the backdrop of a vicious, brutal, sometime fatal clampdown on individuals thought to be too critical to Dar es Salaam.
At the end of the year, at least 12 opposition politicians, businessmen thought to lean towards the opposition and civil society leading voices were abducted. The latest, Tito Magoti, was abducted on December 20 as he got off a boda boda to enter a mobile phones shop.
Witnesses said Mr Magoti, a lawyer and public affairs officer with the Legal and Human Rights Centre, was bundled into a waiting van by men who did not care to explain who they were or where they were taking him.
The police was to later confirm that Magoti had not been abducted, but had been arrested by them.
"Following the arrest of Mr Magoti, we have heard several reports indicating that he was kidnapped. We would like to inform the public that he was not and there are no incidents of kidnapping in Dar es Salaam," read a statement by Dar es Salaam Special Zone Commander Lazaro Mambosasa.
The clarification from the police came after public outrage on online platforms.
His whereabouts were however unknown, forcing a lobby umbrella group to try and compel the State to release the 26-year-old lawyer through a case at the Tanzanian High Court.
"There has been a growing trend as security organs can arrest civilians secretly and hold them for a long time without information being communicated to families and relatives," said Anna Henga, the Executive Director of LHRC, the organisation that Magoti works for.
Magoti's case will most likely not be the last one, and as 2020 approaches, there are fears that the frequency of such abductions may increase since Tanzania will be holding its elections next year.
"The upcoming October 2020 general election will take place in a climate of mounting fear with growing restrictions on the rights to freedom of expression, association and peaceful assembly," reports rights lobby Amnesty International in its 2019 report, 'The Price We Pay, Targeted for Dissent by the Tanzanian State'.
Closed civic space
The report details how in July 2016, the civic space in Tanzania closed rapidly after President Magufuli announced a blanket ban on political activities until 2020, with many lawyers saying the ban has no basis in Tanzanian law. The ban has also been selectively applied against opposition parties. Since it was instituted, several opposition politicians have been arrested and prosecuted on trumped-up charges in politically motivated trials.
In January 2019, Tanzania's National Assembly amended the Political Parties Act ushering in wide-ranging restrictions on the rights to freedom of association and peaceful assembly. Restrictions on media freedom have also intensified under the 2016 Media Services Act which enhances censorship, violates the right to information and limits scrutiny of government policies and programmes.
Between 2016 and 2019, the Tanzanian government has used the Media Service Act to close, fine and suspend at least six media outlets for publishing reports on allegations of corruption and human rights violations and the state of Tanzania's economy.
Since 2018, Tanzania's government has also brought in sweeping powers to police the internet. The Electronic Postal Communications (Online Content) Regulations enacted in March 2018 broadly restricts online content, requires bloggers to register and permit surveillance of cybercafés without judicial oversight.
Hard on media
Together with the 2015 Cybercrimes Act, which criminalises publication of "false" information, these laws undermine privacy of internet users and stifle freedom of expression. This law has been particularly hard on media freedoms in a country that was once hailed as a beacon of hope and tolerance.
On February 27, 2019, the Tanzania Communications Regulatory Authority (TCRA) suspended Citizen newspaper for a week, claiming that they did not follow the Bank of Tanzania's reporting standards on the depreciation of the Tanzania shilling.
Three days before, Citizen had published an article showing what it considered to be the falling value of the shilling over the last three years. The suspension order stated that Citizen had deliberately published misleading information.
Individual journalists have also found themselves on the wrong side of President Magufuli.
The Amnesty International report also details a July 29 incident during which police arrested investigative journalist Erick Kabendera.
"According to information from his lawyer and a family member present during his arrest, six men in plainclothes took him from his home in Mbweni, Dar es Salaam, without informing him of the reasons for his arrest," reads the report.
The following day, Mambosasa, the Dar es Salaam Special Zone Police Commander, announced to the media that Kabendera was under arrest and had been questioned about the validity of his Tanzanian nationality.
A few days later, the police interrogated him about alleged sedition and publication of false information in an Economist article he wrote. They held him for seven days without bringing him before a court, exceeding the 24 hours allowed to bring a suspect arrested without a warrant before a court or to release them on bond or without a charge.
2020 promises not to be any different from the past four years of Magufuli's presidency. It is expected that there will be continued repression of freedom of expression and information and the arbitrary arrests are set to continue.