Former Al Shabaab spokesman runs for office in Somalia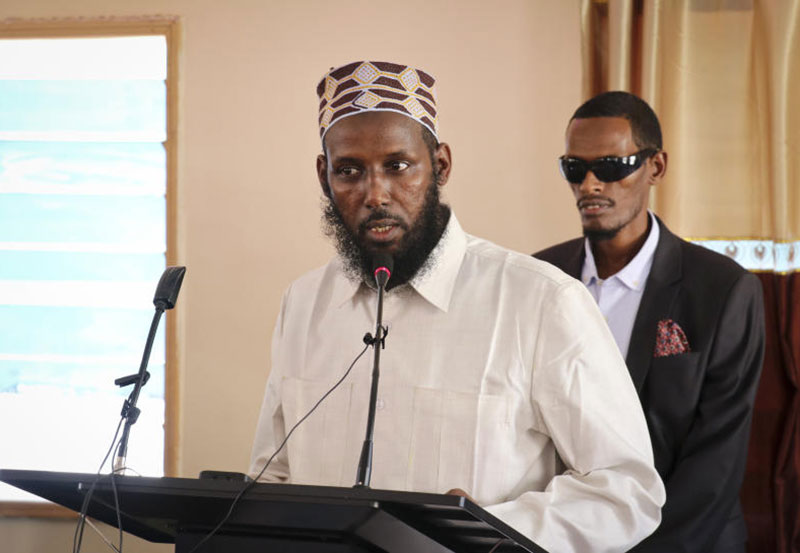 The normal-looking campaign rally in Somalia's capital this month had dozens of people in T-shirts bearing the smiling candidate's image and "Security and Justice" were praising the former number two leader of Africa's deadliest Islamic extremist group, the Al Qaeda-linked Al Shabaab, who until recently was the target of a $5 million (Sh509.1 million) reward.
Stunned, Somalia's federal government is in an awkward spot. If Mukhtar Robow's campaign for a regional presidency goes forward, observers say the man who once praised Osama bin Laden and tried to impose an Islamic state has a good chance at winning next month's election.
Ever since surprising Somalis by defecting to a delighted government last year, the former Al Shabaab spokesman and founding father has not been shy.
Robow (pictured) openly discussed his break with hardliners that led him to quit the extremist group — "I disagreed with their creed, which does not serve Islamic religion," he said — and the threats that pushed him to defect after years of living in the safety of his clan. Then he donated blood in a show of support after Somalia's deadliest attack, the October 2017 truck bombing in Mogadishu that killed over 500 people.
Now the lanky, bearded Robow, Al Shabaab's highest-profile defector, seeks to lead his native Southwest region despite a sharp "no" from the federal government. The Interior ministry said he was ineligible to run because he remained under international sanctions.
The problem, observers say, is that Somalia's federal government is in such a state that no one knows who has the authority to decide who can be a candidate. The presidency did not respond to questions. The United Nations mission in Somalia, which provides electoral support, would not comment.
"Who has the last call on who runs? Nobody knows," Hussein Sheikh-Ali, a former national security adviser who has known Robow for years, told The Associated Press.
On top of that, relations between Somalia's federal government and its regional ones are so bad that cooperation is almost severed.