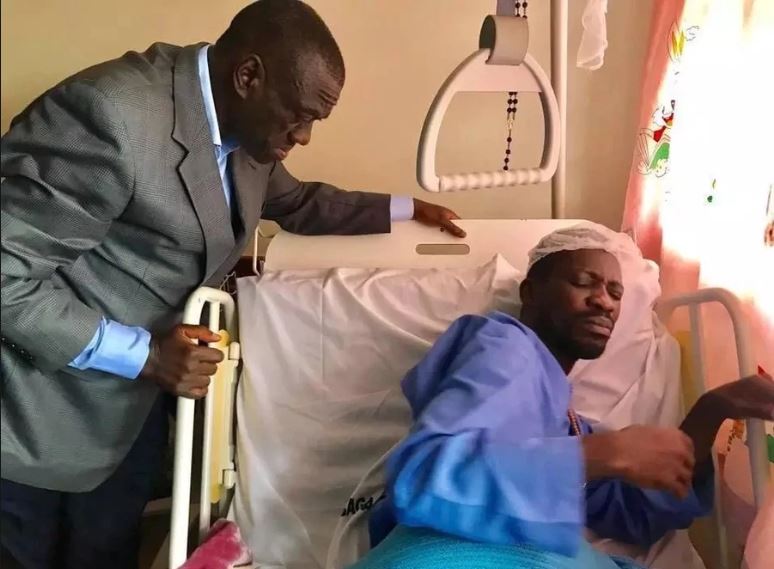 The United States should suspend military aid to Uganda over the government's human rights record, the US lawyer for a prominent critic of President Yoweri Museveni said on Thursday. The call broadened criticism of the government by opposition lawmaker Robert Kyagulanyi, a musician known by his stage name Bobi Wine. Authorities charged Kyagulanyi with treason last month over the suspected stoning of Museveni's convoy. He denies the charge and says he was tortured in detention. He arrived in Washington on Saturday for medical treatment for his injuries. A State Department official said Kyagulanyi met with representatives from the department on Thursday, "as they have done in the past when he visited the United States."
SEE ALSO: Barrack Muluka resigns as ANC Secretary-General
Undersecretary of State for African Affairs Tibor Nagy did not participate in the meeting at the State Department. There was no immediate comment from the government in Kampala. Kyagulanyi has gained popularity for his attacks on Museveni. The president has ruled since 1986 and has won a series of elections, but is viewed by some as out of touch. The government in Kampala denies torturing Kyagulanyi. "We want the American taxpayer to know that the American taxpayer is funding this. The military equipment we are supplying to Uganda is being used in a war of terror against Uganda's citizens," lawyer Robert Amsterdam, flanked by Kyagulanyi, told a news conference in Washington "We call on the U.S. government to immediately suspend military funding to Uganda," he said.
SEE ALSO: Three Juventus players available to Arsenal if they sell Lacazette
Kyagulanyi, 36, used crutches and showed reporters blisters on the palm of his hand he said were traces of the torture. "I must go back home. Uganda is my home," he said. "I want you (my supporters) to stand with the oppressed, not the oppressor." Washington is a major source of funding for Uganda's military, supplying hardware, cash and training. It has given equipment, money and intelligence for the military's hunt for Lord's Resistance Army warlord Joseph Kony. Museveni also receives diplomatic support from Washington for his deployment of troops in international peacekeeping missions including the fight against militants in Somalia. Chinese offshore oil and gas company CNOOC Ltd, France's Total SA and London-listed Tullow Oil Plc are among major investors in Uganda.
SEE ALSO: Child custody battle plays out in 3 nations
"International investors in Uganda have obligations," Amsterdam said. "While we are not today in any way seeking disinvestment from Uganda, what we are seeking is responsible investment in Uganda," Amsterdam said.