Tension in Zimbabwe as EU observers raise red flag over poll credibility
AFRICA
By AFP | Aug 1st 2018 | 4 min read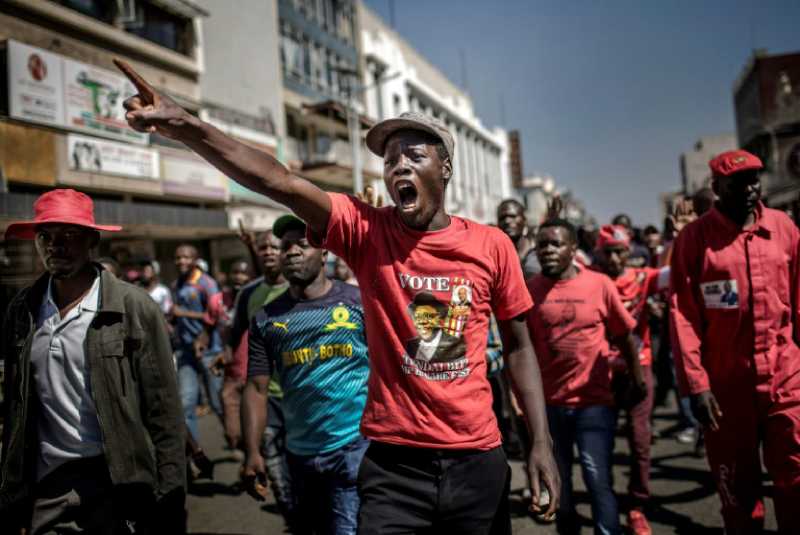 European Union observers said Wednesday that Zimbabwe's elections had been held on an "un-level playing field" as opposition MDC supporters protested against alleged fraud by the election authority and ruling ZANU-PF party.
Official results strengthened President Emmerson Mnangagwa's prospects of holding on to power in the key presidential vote, showing that ZANU-PF had easily won the most seats in the parliamentary ballot.
Several hundred opposition Movement for Democratic Change (MDC) supporters gathered outside the party headquarters in Harare, chanting and shouting that they had won the elections.
Anti-riot police backed by water cannon trucks monitored the demonstrators, while MDC supporters also protested outside the conference centre where election results are being announced.
The EU mission found an "improved political climate, but (an) un-level playing field and lack of trust in the process," it said in a statement, two days after Zimbabwe's first ballot since Robert Mugabe was ousted by the military ending his 37-year rule.
EU chief observer Elmar Brok said there were "efforts to undermine the free expression of the will of the electors through inducements, soft intimidation, pressure and coercion... to try to ensure a vote in favour of the ruling party."
"On many occasions, preparation, financing, media and hopefully not in the counting -- it was advantageous for the ruling party," he told AFP as the mission called for transparency in the release of results.
Mnangagwa, 75, had promised a free and fair vote after the military ushered him to power in November when Mugabe was forced to resign.
- Past elections marred by fraud -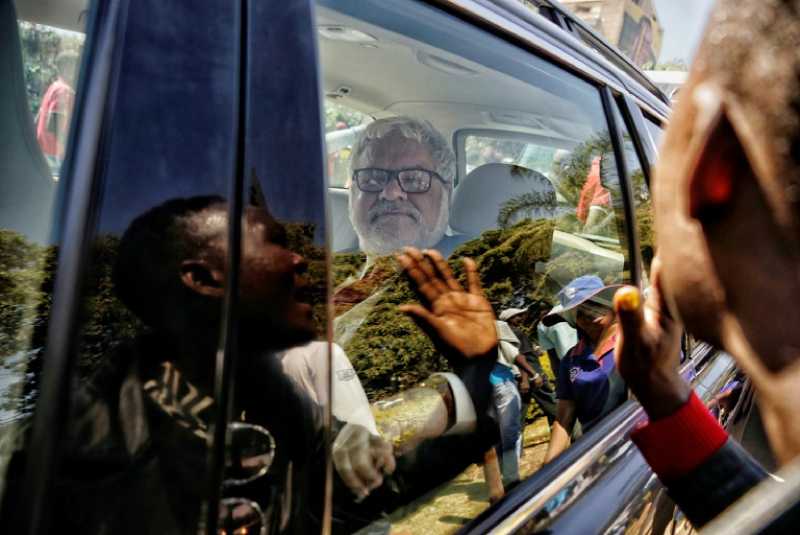 Under Mugabe, elections were marred by fraud and often deadly violence, with the EU mission banned since 2002.
The Zimbabwe Electoral Commission (ZEC) said Wednesday that of 210 parliamentary seats, 153 had been counted with ZANU-PF winning 110 and the MDC Alliance 41.
"The results are biased, trying to give the impression that ZANU has won," said Lawrence Maguranyi, 21, an MDC supporter and university student protesting at the party headquarters
MDC leader Nelson Chamisa, 40, said the presidential results were fraudulent.
"ZEC seeks to... reverse the people's presidential election victory. The strategy is meant to prepare Zim mentally to accept fake presidential results," he tweeted. "We won the popular vote and will defend it!"
The regional SADC bloc, in its preliminary report, said Wednesday that the campaign and election had "proceeded in a peaceful and orderly manner and were largely in line" in Zimbabwean law.
It called for any aggrieved candidates to "refrain from any form of violence".
If no presidential candidate wins at least 50 percent of the ballots cast in the first round, a run-off vote is scheduled for September 8.
The electoral commission warned that final results of the presidential first round may not be known until Friday or even Saturday.
But it said partial presidential results could be announced later Wednesday.
Commission chairwoman Priscilla Chigumba, a high court judge, has flatly denied allegations of bias and strongly disputed accusations of rigging.
- The Mugabe factor -
Mugabe, 94, voted in Harare alongside his wife Grace after he stunned observers by calling for voters to reject ZANU-PF, his former party.
His attempts to position Grace as his successor are widely thought to have driven the military to intervene and put their favoured candidate, Mnangagwa, in power.
"There is no way that ZANU-PF will accept an MDC victory. We know that people will be beaten -- especially in rural areas, like what they were doing before," said Harare shop worker Tracy Kubara, 26.
Mnangagwa, Mugabe's former right-hand man, was the clear election front-runner, benefitting from tacit military support and control of state resources.
But Chamisa, a lawyer and pastor who performed strongly on the campaign trail, sought to tap into the youth and urban vote.
He has repeatedly accused ZANU-PF and election authorities of trying to use a flawed electoral register and fixed ballot papers to steal the election.
Whoever wins will face a mass unemployment crisis and an economy shattered by the Mugabe-era seizure of white-owned farms, the collapse of agriculture, hyperinflation and an exodus of investment.
Mnangagwa was allegedly involved in violence and intimidation during the 2008 elections when then opposition leader Morgan Tsvangirai pulled out of the run-off after attacks claimed the lives of at least 200 of his supporters.