Rivals clash as Sierra Leone election headed for a runoff
AFRICA
By AFP | Mar 12th 2018 | 2 min read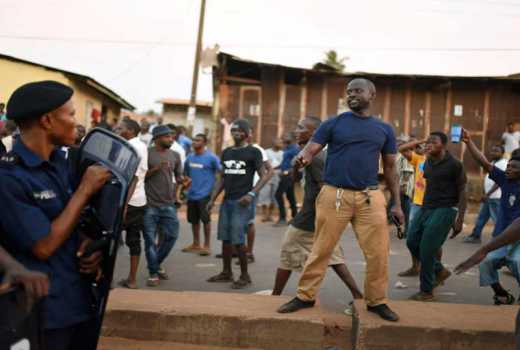 Rival supporters clashed in Freetown on Saturday after results from Sierra Leone's presidential election indicated a runoff would be needed with no candidate set to secure the 55 per cent required to win outright.
With incumbent Ernest Bai Koroma standing down after two terms, his All Peoples Congress (APC) candidate Samura Kamara was just leading Julius Maada Bio of the main opposition Sierra Leone People's Party (SLPP), based on 50 per cent of returns from the National Electoral Commission (NEC).
The NEC gave former foreign minister Kamara 43.2 per cent share of the vote so far against 43.09 per cent for former general Bio in Wednesday's poll.
European Union observers on Friday described the election as 'transparent, credible and well-organised,' but noted sporadic 'intimidation and violence', concerns echoed by the Freetown-based Campaign for Human Rights and Development International (CHRDI).
The early results triggered unrest as supporters of the two main parties clashed in the capital's central business district, leading police to make several arrests.
"Just after the announcement of the results by NEC people started to celebrate, which angered other onlookers," trader Abubakar Sesay told AFP.
"I had to close my business as everyone was running from the scene. Many shops closed due to the panic," Mr Sesay said, adding that he witnessed stone-throwing.
Kandeh Yumkella, a former high-ranked member of the SLPP now standing for a National Grand Coalition, was in third place with 6.69 per cent.
Wednesday's presidential, parliamentary, and local council elections had passed off largely peacefully despite a police raid on Bio's residence.
The raid followed accusations of vote 'hacking' despite Sierra Leone using a manual voting system.
The NEC had called Friday for patience in the count.