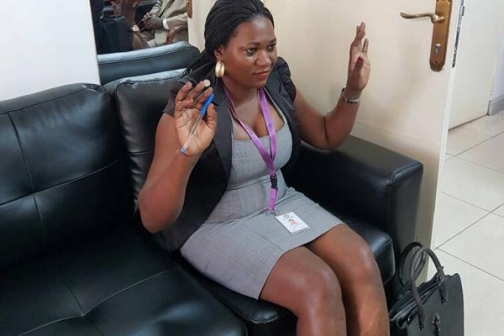 A Ugandan Court clerk has been suspended for wearing a short and tight dress while in the line of duty.
Rosemary Namuwanga, was suspended by the Permanent Secretary of Ministry of Public Service, Josephine Muwonge, for indecent dressing.
According to Ms Muwonge, indecent dressing paints a bad picture of the Judiciary and the Public Service.
According to the Daily Monitor, a letter handed to Ms Namuwanga stated she was dressed in a very short and tight dress which breached Notice NO.1 of 2017.
"This is to inform you that, today September 21, while you were invited to the office of the Permanent Secretary to the judiciary for an explanation regarding non-payment of your salary and allowances for the month July 2017, you turned up dressed in a manner that does not portray a good image of the Judiciary and Public Service at large," reads part of the letter.
Namuwanga works as a court clerk/ interpreter at Kasangati Magistrate's Court in Wakiso District, Uganda.
uganda-a court clerk has been suspended for wearing a 'short & tight dress'
-why don't men also tell us how to breathe while we're at it? pic.twitter.com/BRmTTYDDCJ — Samira Sawlani (@samirasawlani) September 21, 2017
Responses from netizens after the suspension:
Policing of women's clothing is a form of oppression. Simple.as.that.
It is misogyny. — Samira Sawlani (@samirasawlani) September 21, 2017
She was suspended by a woman doesn't change that. It's known as internal misogyny- another gift from the patriarchy so. — Samira Sawlani (@samirasawlani) September 21, 2017
pls stop defending this. she turned up to a meeting wearing what someone else perceived as inappropriate-she now loses 2 weeks pay. stop. — Samira Sawlani (@samirasawlani) September 21, 2017
One never gets bitten by a croc if one doesn't poke hands in its mouth. She knows the Ts-of-ref for her job and still goes in violation? Hmm — Kim Lanny (???) (@kimlanny) September 22, 2017
The #misogyny card gets irrelevant & inapplicable in a situation where the victim already knows what is & what's not okay at her work place.

— Kim Lanny (???) (@kimlanny) September 22, 2017
Don't complain about salary, you will be fired for some flimsy reason. Pure malice — Mark Rutaro (@rutamark) September 22, 2017
Been told this is the gal pic.twitter.com/dn9G26vKP8 — Sheilla Atim (@AtimSheilla) September 21, 2017
pic.twitter.com/ckJu7vhIKr — Eye-saac (@Bit20200) September 21, 2017
very sensitive subject but it's good to talk about it. rules of decency must apply to every gender. — miriam kawoozo (@MKawoozo) September 22, 2017