South African leaked emails heap more pressure on Zuma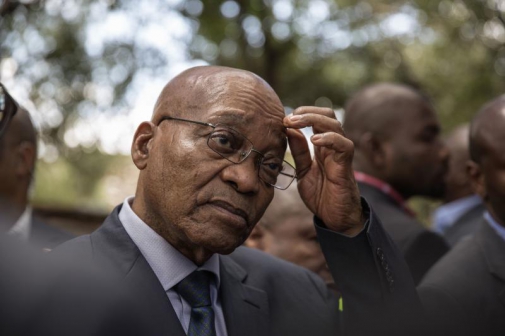 Leaked documents released by the South African media on Thursday alleging improper dealings in government contracts opened President Jacob Zuma up to renewed scrutiny and may deepen divisions within the ruling African National Congress.
Zuma has survived calls to resign from within the usually united ANC in recent weeks due to disputes over political appointments and his friendship with the Indian-born Gupta family, wealthy businessmen whose companies have contracts with state-owned firms.
Investigative journalists at AmaBhungane, a non-profit group that has a strong track record of exposing what it says are government corruption scandals, released some of more than 100,000 leaked emails and documents.
It says they prove Gupta-owned companies unduly influence the awarding of government contracts worth hundreds of millions of dollars - including the building of locomotives and pre-payments for coal deliveries before a deal was signed.
A Gupta family spokesman did not respond to questions by phone and said he may reply to emailed inquiries from Reuters later. The Gupta family and Zuma have denied wrongdoing when similar allegations have been made in the past.
Spokesmen for Zuma and the ANC did not respond. Reuters was not independently able to verify the allegations.
Zuma spoke in parliament on Thursday and used the opportunity to take a swipe at the media and opposition parties, who boycotted the session in protest against his leadership.
"(Opposition parties) pile allegations after allegations when they don't have no facts just because they have been reading newspapers," Zuma told ANC lawmakers.
"Parties even use the newspaper articles to go to court and they say you need to have a case on hearsay."
"Factional battle"
The latest allegations of influence-peddling may deepen a divide in the ANC as factions battle for control ahead of a conference in December where Zuma's successor as party leader will be chosen. Zuma can remain as head of state until a 2019 election.
Zuma's camp is expected to back his ex-wife and former African Union chair Nkosazana Dlamini-Zuma, while another faction will support Deputy President Cyril Ramaphosa.
The contents of the leaked confidential government documents will likely embolden Zuma's opponents in the ANC who want to oust him or prevent his chosen successor from becoming party president in December, analysts say.
"The leaks will play into the factional battle over succession which is getting intense. The stakes are very high," said Daryl Glaser, politics professor at Johannesburg's University of Witswatersrand.
"I don't think that what comes out will be enough to result in Zuma resigning before December."
Political turmoil is hobbling Africa's most developed economy, with data showing on Thursday that unemployment had reached a 14-year high, while spooked local investors are offloading government debt.
Fitch retained its BB+ junk rating on South Africa on Thursday and warned that infighting within the ANC would "remain particularly strong" ahead of December's conference.
Opposition parties hope ANC infighting and public anger at government corruption, high unemployment and slowing growth will help them unseat the ruling party at an 2019 election.
"Zuma is running a criminal state and is using state institutions to enrich himself and his friends," Mmusi Maimane, leader of the opposition Democratic Alliance, told Reuters.
"But do not think that getting rid of Zuma will be the answer. These problems run to the core of the ANC. It is an ANC project that can only be stopped with its removal."
A constitutionally mandated anti-graft watchdog said in a report last year that the Guptas had undue influence over government officials and former deputy finance minister Mcebisi Jonas said he was offered a promotion by the family.
Jonas and finance minister Pravin Gordhan were removed by Zuma in a reshuffle in March.
On Wednesday, government ministers bowed to mounting pressure and told Eskom to remove its chief executive Brian Molefe, a Zuma ally, after senior politicians and the public reacted with anger at his re-appointment two weeks ago.
Molefe resigned in November last year following allegations he had links to the Gupta family. Molefe denied wrongdoing and said he resigned in the interest of good governance.
Mudibo elected to ITTF board
Andrew Mudibo, President of Kenya Table Tennis Association has been elected to the Board of Directors of the International Table Tennis Federation (ITTF) during the Federations AGM on Wednesday, in Germany.