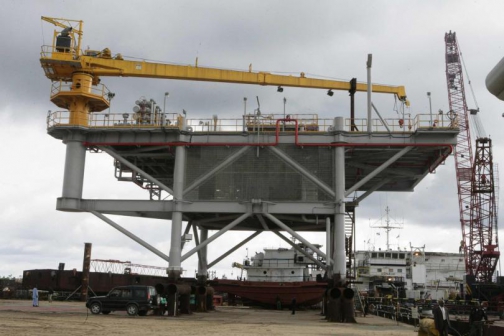 A Nigerian civil rights leader and a Niger Delta resident confirmed on Thursday that militants had attacked a Chevron oil facility in the region.
A militant group called Niger Delta Avengers said late on Wednesday that it had blown up the main electricity feed pipeline leading to the Escravos tank farm.
"The attack truly happened," Eric Omare, spokesman for the Ijaw Youth Council, said on Twitter.
Resident Zebo Austin, who lives nearby, also confirmed there had been an explosion.
"We heard a loud blast at the Abiteye to Escravos crude pipeline which was blown up last night by yet-to-be identified militant group," he told Reuters.
There was no immediate confirmation of the attack from Chevron.
The Avengers, who say they are fighting for a greater share of oil profits, an end to pollution and independence for the southern region, have told oil firms to leave the Delta before the end of the month.
Abuja has responded by moving in army reinforcements but British Foreign Minister Philip Hammond said this month President Muhammadu Buhari needed to deal with the root causes of the conflict.
Crude oil sales from the Delta account for 70 percent of national income in Africa's biggest economy but residents, some of whom sympathize with the militants, have long complained of poverty.
Buhari has extended an amnesty deal signed with militants in 2009 that stepped up funding for the region. But he has cut funding for the amnesty program and canceled contracts with former militants to protect the pipelines they used to attack.