President-elect John Magufuli tastes power in the streets of Dar-Es Salaam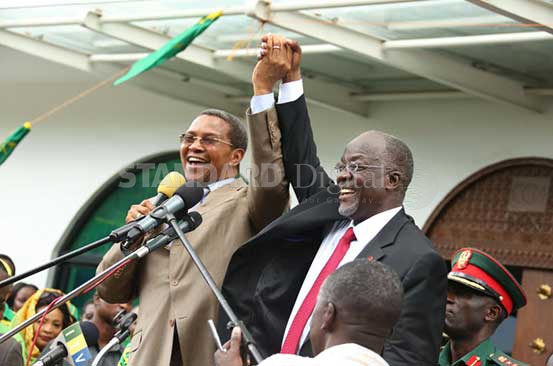 TANZANIA: Just a day after being declared Tanzania's President-elect, John Pombe Magufuli was taken through the taste of State power in a colourful street display that culminated in a victory speech to party supporters.
The ruling Chama cha Mapinduzi party rode Magufuli in a long convoy that snaked its way through the centre of the capital to the party's headquarters where hundreds of rain drenched party supporters danced and jostled.
People lined up the streets to greet the president elect in a green colour party display that for a moment masked the fact that the hotly contested election has been disputed by the opposition, Chama Cha Demokrasia and Maendeleo (Chadema).
Business was temporarily disrupted and people jumped across large poodles of water in the streets to have a glimpse of the incoming president, a former Chemistry teacher with a reputation for being a stickler to rules.
Earlier on, he had received a winner's certificate from the National electoral commission (NEC), in what effectively slammed brakes on any lingering hopes that the opposition will get any form of recourse in this election. Some observers have said the poll lacked adequate transparency, and the opposition candidate Dr Edward Lowassa has said he will not accept the result of the poll.
"I won with over 60 percent of the vote. My victory was stolen," said Lowassa Thursday.
But Magufuli was conciliatory in his speech.
"I watched television and saw the kind of celebration that my victory elicited through the country. That is the moment I realized the expectations that millions of Tanzanians have in the incoming administration. I ask God to give me the strength to serve the people with my while being...I ask Tanzanians to be united in building the country," Magufuli told supporters some of whom hung dangerously from tree branches and roof tops.
But former President Jakaya Kikwete could not resist jibes at the opposition, whom he taunted for failing to realise 'the kind of party CCM is.' Kiketwe reminded the opposition that there will be no second winner's certificate.
The former President introduced the incoming president' swife Janet Magufuli and wondered why the opposition in its campaigns had claimed that Magufuli is a bachelor.
"They cooked up stories saying he has no wife. When people are losing, they clutch on straws. If you want to know the kind of a party CCM is, just try to threaten its unity. Some people thought that it will break up, but that didn't happen. The elections are over, there will be no second winner's certificate," added Kikwete, who would have gone down in history as the man in whose hands the party 'died', had CCM lost the election.
As Magufuli received his winner's certificate, party stalwarts, who may never have another opportunity to meet him at close quarters pushed and shoved to greet him and take photos.
Magufuli who is set to be sworn in on 5 November has the onerous task of lifting millions of Tanzanians from abject poverty, Tanzanians are also looking up to him to resolve pressing social and economic issue such as lack of water, poor education standards and the chronic energy problems.
RIO DREAMS UP IN SMOKE
The Kenya Hockey Union failed to adequately prepare and the union's league was not also adding value or helping players to up their game due to inconsistency.